Objective
Devin Franco reached out to us following policy changes on the content creator site, OnlyFans. He needed a membership website created and designed right away to host all of his content and so that his fans could subscribe each month to stream his content all in one place.
Devin also needed a logo created as well as some video editing help to create a video opener for his preview clips.
SERVICES:
Website Development
E-Commerce
Logo Creation
Creative Direction
Video Editing
Website Maintenance
Pricing Strategy
Social Media
Accounting
LOGO CREATION
Before we dived into creating the website, we needed to create an iconic logo which fit Devin's tastes. After an initial consultation with Devin, we learned his criteria for how the logo should look.
Logo Criteria:
Modern and sleek
Incorporate .com into the logo
Needs a pop of color
We went through a series of font choices as well as multiple color palettes and presented Devin Franco with various logo treatments pairing these fonts, text placements, and color palettes.
Upon review, Devin happily chose his favorite logo and a pink / purple color for the final choice. One problem…DevinFranco.com was owned by someone else who refused to give up ownership.
Solution! Since Devin's website was going to be an adult website, we advised to go with a .XXX ending to his domain as it would tie in with his social media handles as well as allow us to be more creative by incorporating XXX and X's throughout the design.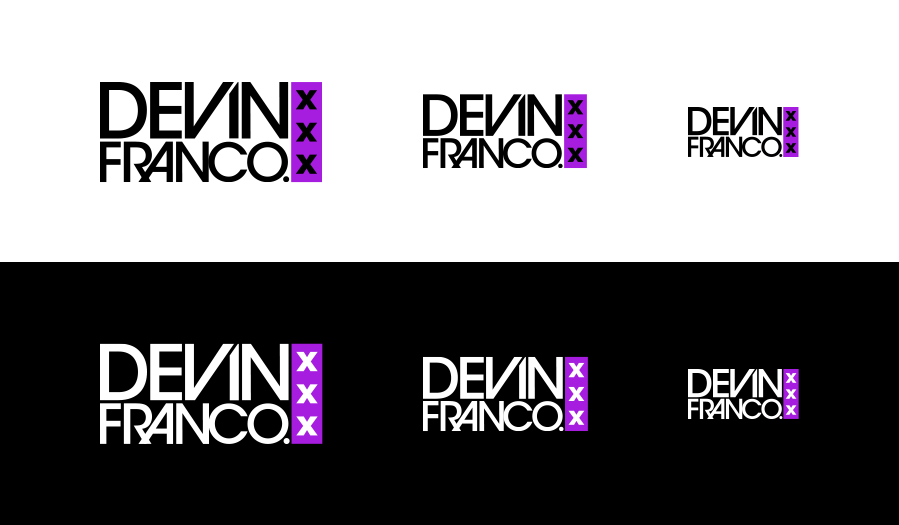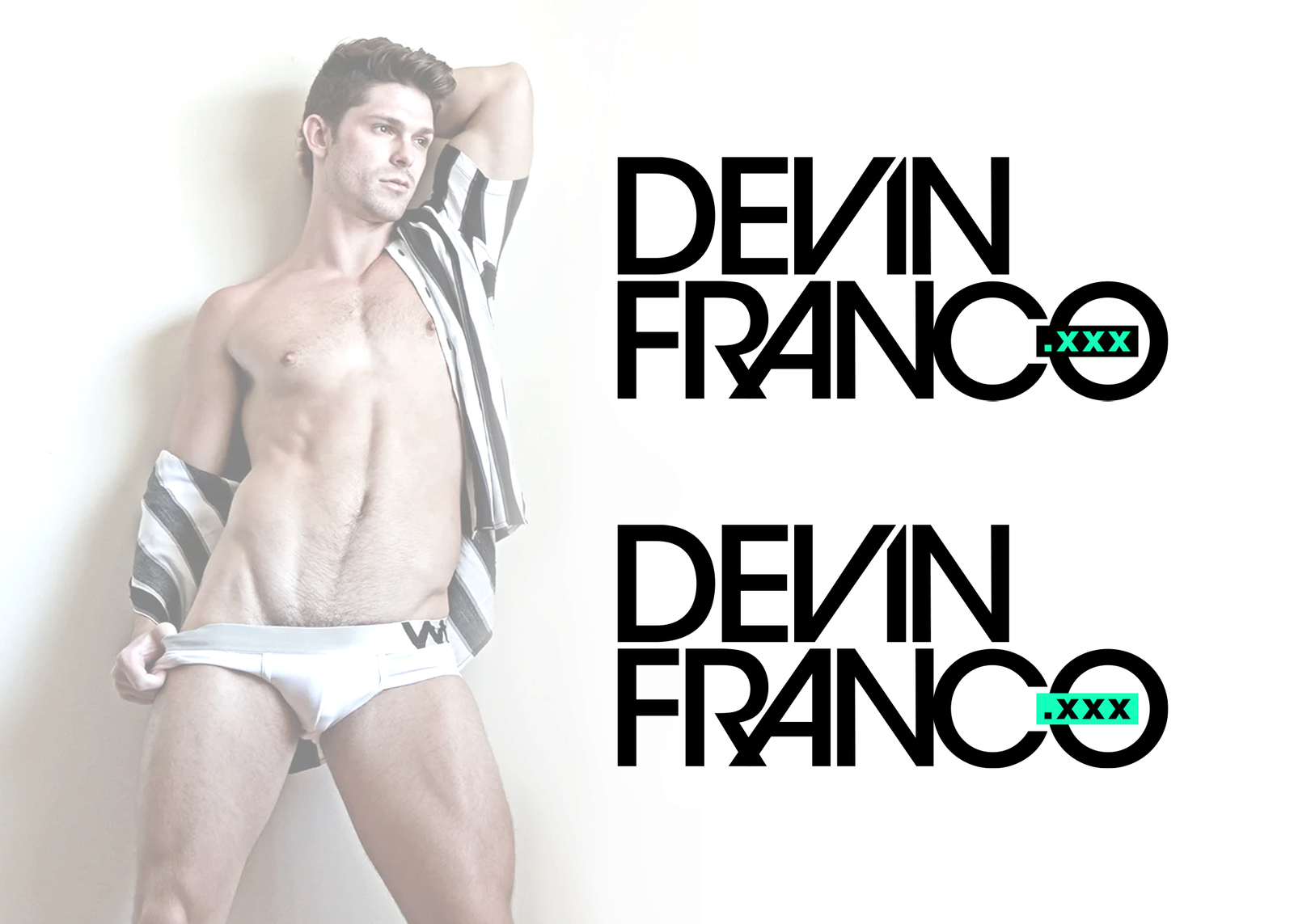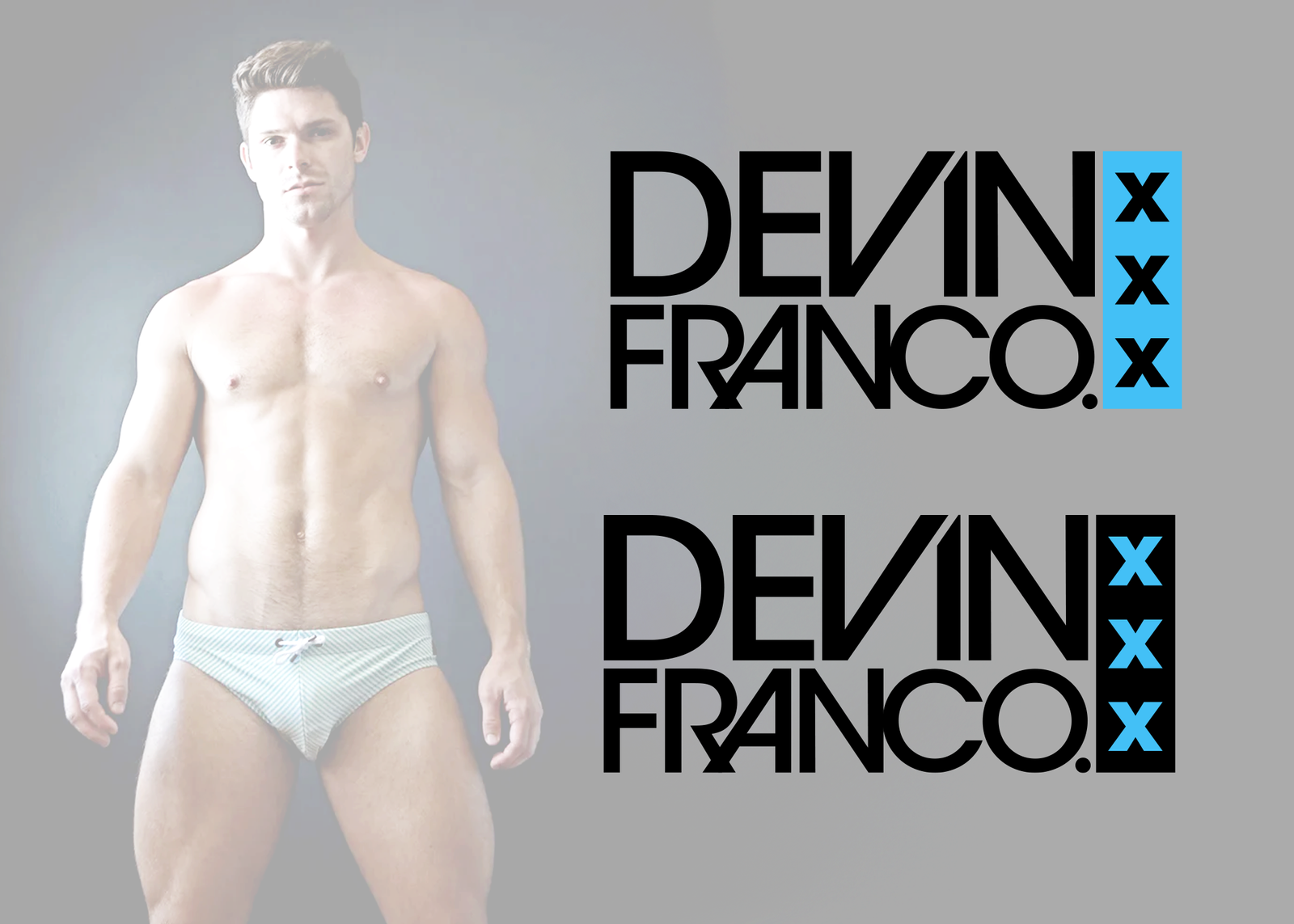 WEBSITE DESIGN
Now that we had an amazing logo chosen, it came time to design and develop Devin Franco's very first official website.
With all website projects, we start by creating a mood board curated with our own images and our client's images to inspire us to design something awesome.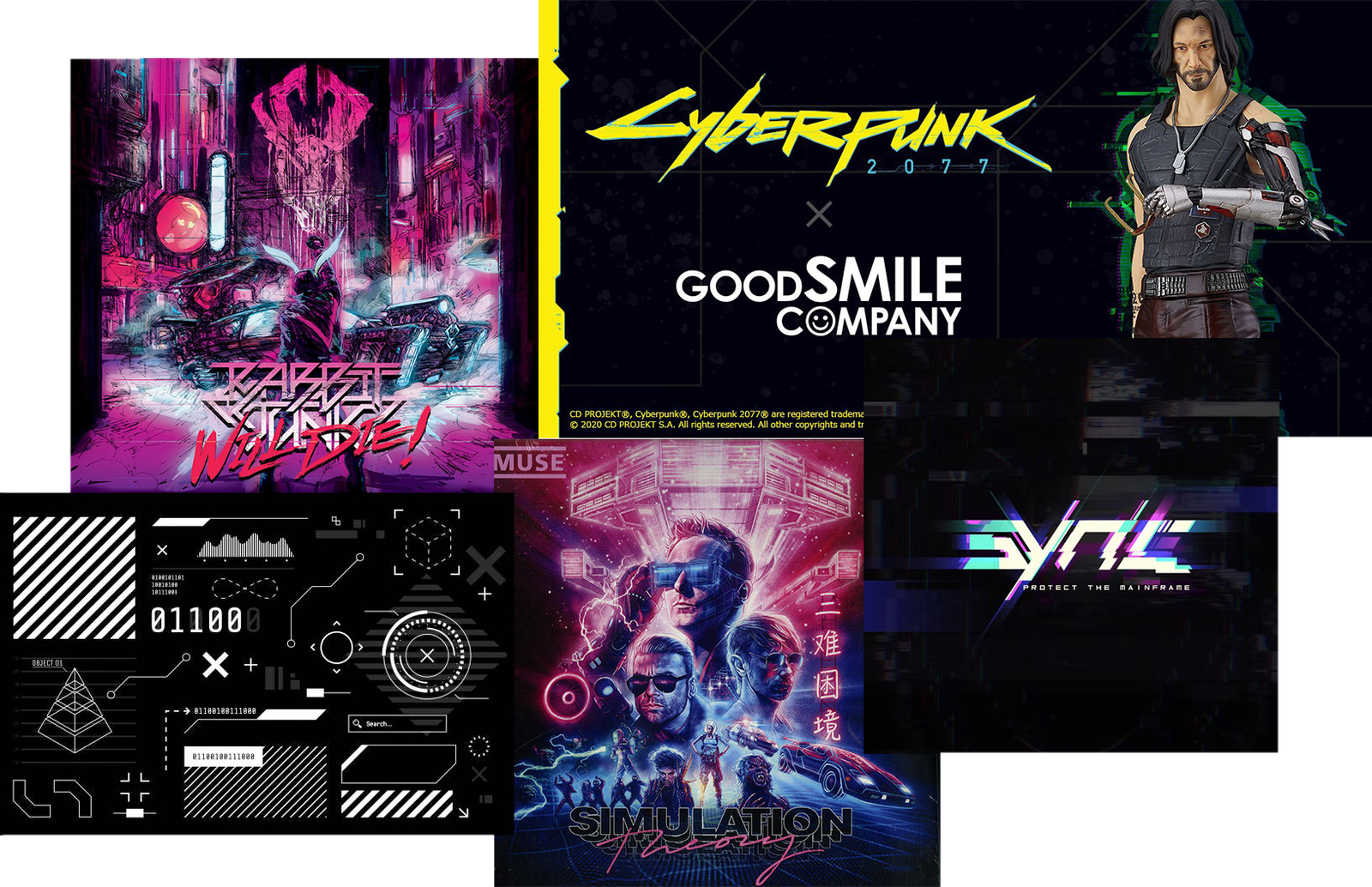 With some creative inspiration, we dived right into framing out the website from top-to-bottom working on development of the navigation, header and footer, landing page layout, sign in and registration portals, paying member pages, video streaming pages / video player design, etc.
Making Sense of Content / Site Structure
Since we don't like boring sites, we always discuss with our clients what makes this site unique. For instance, is there a special feature or section of the site we can develop to make this site different from the competition. After chatting with Devin, we learned that he has regular adult scenes and very kink / fetish related scenes. We proposed the idea of splitting these 2 categories into their own sections.
To further differentiate these sections, we decided to have the site appearance change dependent upon if a user is viewing regular scenes or fetish scenes. The regular scenes would change the site to a light color mode but when a user goes to the fetish side of the site, the site changes into a dark color mode. Sort of like having 2 separate skins on the site.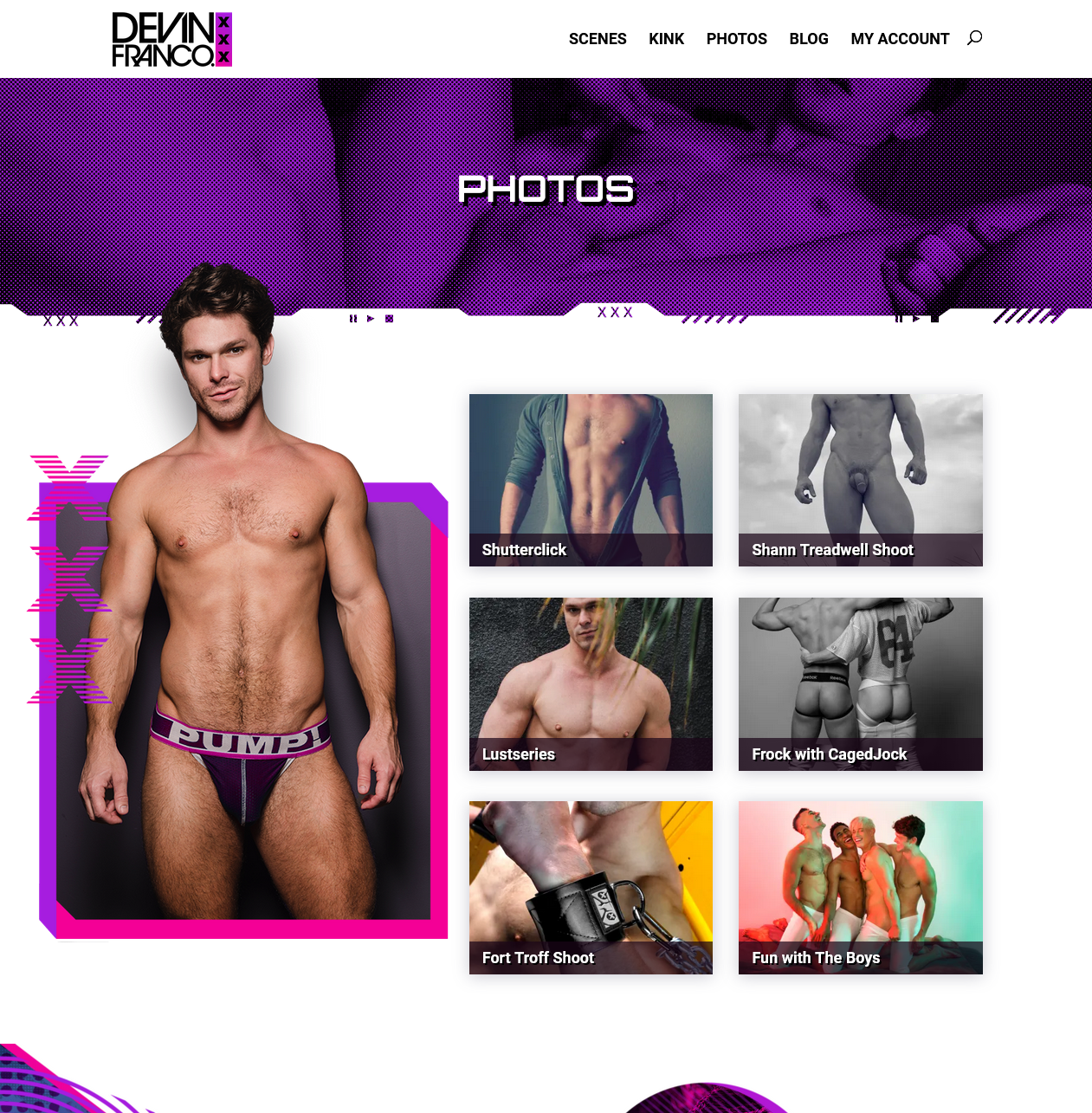 BUSINESS STRATEGY
With a full fledged membership site designed, tested, and to Devin's full satisfaction, it now came the time to develop a pricing strategy and social media marketing campaigns.
PRICING STRUCTURE
Since this is a membership site, there would need to be a monthly membership fee. But what about members who just want to join for one and not be locked into a recurring subscriptions? What about users who want to pay for more months in advance, do they get a discount?
We conducted market research into the various adult studio membership sites, individual performer sites, as well as industry averages for OnlyFans creators' monthly subscription prices.
Based upon our research and industry experience, we developed 3 price options for customers:
Non-Recurring
Doesn't rebill
1 Month Recurring
Rebills once a month
3 Months Recurring
Rebills every 3 months
The benefit of a 3-tiered pricing strategy is that it allows users to opt-in at various levels and persuades them to become recurring members to lock in the lower rates. By becoming a recurring member, it helps generate recurring revenue in the long-term.
AFFILIATE PROGRAM
To spread the word about Devin Franco's website, we utilized an affiliate program strategy to incentivize adult film bloggers to promote the site via their various platforms including social media. We set up an affiliate portal which includes video previews, galleries, and write-ups about each of the films released on Devin's website. Whenever a new video is released to the website, we utilize e-newsletter blasts which go to all of the current affiliates notifying them of the newest film releases. The affiliates are then instructed to log into the affiliate portal to download all of the marketing materials associated with this video release to promote it. For everyone successful lead that turns into a paying subscription, that affiliate is awarded a commission for every sale both recurring and non-recurring.
SOCIAL MEDIA MARKETING
Aside from Devin Franco's own personal social media pages on Instagram and Twitter, ACK Enterprises maintains and posts to a Twitter page solely dedicated to his website. Using the Tweetdeck services, we are able to schedule tweets throughout the week to correspond with the various video releases happening on Devin's website. We also encourage the followers to retweet and like to help spread each promotional posts generating more interest in the site.
MAINTENANCE SERVICES
Managing website, handling customer service issues, monitoring the billing, maintaining the web server, initiating affiliate payouts, and balance the accounting books can be a mountain of work for a single person. After we finish all projects, we offer our services to assist in all of these areas to maintain and manage your website for you while you can focus on content creation.
WEBSITE MAINTENANCE
Having his own website was entirely new to Devin Franco, as it was something he's never done before. To help facilitate this new business venture for him, we offered our services to handle the entire backend of his website for a monthly maintenance agreement.
Utilizing our services, we gave Devin more time to focus on creating new content and promoting his site via his personal social media channels. ACK Enterprises stepped in and took over the handling of custom inquiries via the contact form, scheduling and posting the latest video releases, creating regularly posted blog posts, updating backend software and much more. With our 24/7 support, we ensure Devin Franco's website is always running at peak performance and operating smoothly for his fans.
ACCOUNTING / FINANCE
With new members joining the site daily, memberships recurring, chargebacks, members ending their membership, and memberships getting renewed, it can be a daunting task to navigate all of accounting for such a busy website. Luckily, not only can we design and code, but we can do accounting as well. With an accountant on staff, we offered Devin Franco our services to manage all of his day-to-day financial operations.
At a moment's notice, Devin has access to all of the financial logs and can get ad-hoc reports from ACK Enterprises regarding the financial data of his website. At the end of every month and every year, we present Devin with a financial report showing the site's performance for that particular month as compared to the previous periods. With this vital information, we can collaborate with Devin to make more informed financial decisions to benefit his business and increase his company profits.